Hi Lovies,
So I have taken the decision to add a few new players to my hair care team.  I loved Palmer's but I felt that after a year I wanted to change it up a bit and try something new.  I think the decision for the change was made easier when I felt how soft, manageable and moisturized the Shea Moisture Curl enhancing smoothie made my hair.  In looking through the various lines that they provide I was more drawn to the Coconut and Hibiscus line because these are two of the staple ingredients already part of my regimen.  And considering the smoothie is from that line and I was already super impressed with it, I decided hey why not.
So I headed to Walgreen's and capitalised on the buy one get one half sale that they had going on.  Following my purchase I started reading a number of concerns being raised about changes in the formula or ingredients used by shea moisture.  I was a bit concerned but was not shaken because like I always say I listen to what my hair needs and not what someone else thinks or uses.  I felt that the Shea Moisture would have been a good option for my hair and was going to ignore all the negative comments.  Then I saw this…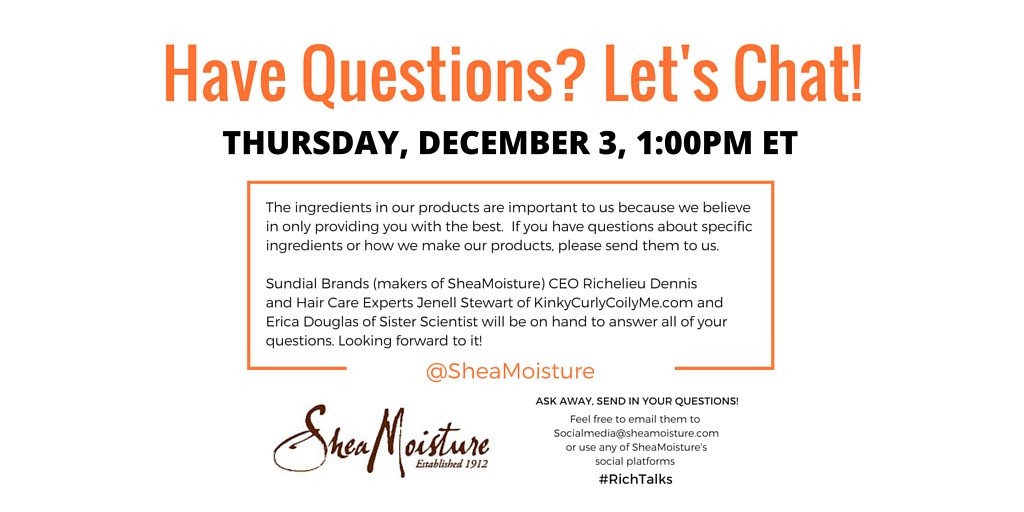 WOW !!!  I felt that this was a discussion I would definitely want to be a part of and I felt right then, that I had made the right decision in choosing my new product.  To me, a company that cares about what their consumers think and are willing to open themselves and be transparent about their products works for me.  It's not about "let's just ignore all the comments because they are going to buy the products anyway"  it is about "we care what our consumers think and we want to give them the assurance that we care and that we are the same"  Kudos to you Shea Moisture!!
The discussion was indeed a very informative one.  Halfway through the discussion I had to attend a function and when I got home from the function I sat and read the rest of the discussion that went on while I was gone.  They touched on the labeling of products to the consistency.  They spoke about the requirements of various legislation and the impact on natural materials on the products.  What stood out for me, though, was the explanation given to the question "If the formulations didn't change, why would somebody's hair respond differently?".  The response was "There are lots of reasons why people's hair responds differently to hair products over time…Sometimes changes in water quality(soft water &hard water)make a dramatic difference in how hair feels coming out of a wash…Other times, it's how products are combined with other products, and how they play together…And sometimes, it's simply our bodies/hair changing with seasons, weather, age, etc".
That response really stood out to me because it was for some of those reasons I felt it necessary to change my products.  After the changes in our water supply and the necessary addition of the cleaning agents following tropical storm Erika, my hair had become so brittle and dry that I felt there was need for something to allow it to retain more moisture.  And when the curl enhancing smoothie did so well I felt it was indeed time for a change because of the changes that were happening around me.
So I welcome the new players to my team in my hair care routine and look forward to continued growth and great hair days.
Now, if the rest of these do for me what the curl enhancing smoothie does I will be in "Hair Heaven".  I am very excited about trying the hair masque but will be sure to provide updates on the various products as time progresses.
Kisses Lovies.